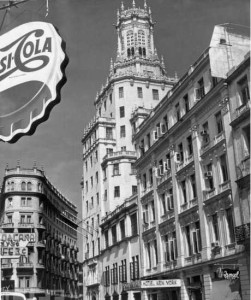 New York Hotel in Havana City is falling apart. The building has been shutdown for several years for restoration purposes and the state of it quickly went from bad to worse.
Located on 16 Dragones St. in Old Havana, not too far from the Capitol, the four-story building still stands proud of what it was one day, a Havana jewel.
There is not a lot of information that can be found on internet about the construction of this hotel, only that it was built in 1919 by Cuban contractors Tella & Cueto, had been owned by Jose R. Martinez and later leased to Jose Morgado. I found an ad from March, 1921 in the Miami News paper from the time it was managed by Morgado & CO.
You can read some opinions about the hotel atmosphere back in the days. Someone who visited the place in the early 60's remembers the place like this: "It was like being in a gangster's film! The lobby  had a row with phone booths equipped with seats and each booth had a folding door. The reception office was like a film scene too. Everything was built with dark wood".
Here are the pictures I took in November, 2013. The facade is dirty, the windows and doors are broken and nature is already growing on the building canopy. I wonder how the ceilings and walls are looking from the inside. One of the photos actually became one of my favourite city pictures of this trip. It gave me hope within the sadness of seeing the fast deterioration of my beloved capital.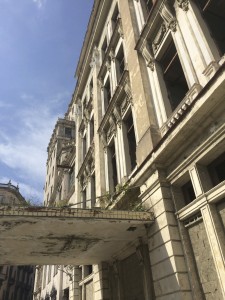 This building, like many other buildings in Havana, deserve more articles and more attention if we want to try to save our city from total crumbling. This construction is less than a 100 years old and it would be a shame to let it collapse.
Citizens pass by and forget to look up, the same citizens that are struggling to put rice and beans on their table. They are too busy with basic needs, trying to keep their bodies and their souls fed, somehow…
---
Also published on Medium.