This past weekend we visited Lantau Island again. We jumped on the cable car that takes you to Tian Tan (The Giant Buddha), passing over the mountains and the ocean. We found out too late that the line could have been avoided by purchasing the tickets online but if you are a tourist without internet the wait is worth it. We chose the crystal cabin which has a glass floor and the 25 minute journey was a lot of fun.
The little and fake town, Ngong Ping, can be skipped unless you want to buy souvenirs or need to grab a quick bite to keep you going. I did not find a reason to hang around there and wondered how I am going to be able to skip these kind of places once I have kids. It reminded me of fake Niagara Falls town in Ontario, Canada.
Once at our destination we saw the Buddha sculpture in front of us, perfectly seated on a lotus and other six bronze devas with offerings surrounding it. The view of the mountains behind is stunning, even on a cloudy day like yesterday.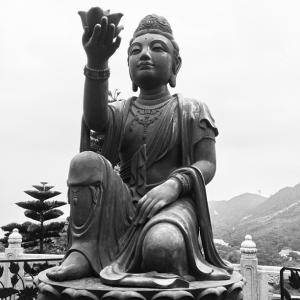 Po Lin Monastery is right across Tian Tan. We entered the monastery a few minutes before sunset and the photos turned out to be lovely. The monastery is a explosion of colours and sounds. The patio is full of bougainvillea flowers in three different colours: red, pink and purple and the construction itself is painted in many bright tones, the red being the predominant. The constant sounds of birds could bring peace to any troubled heart.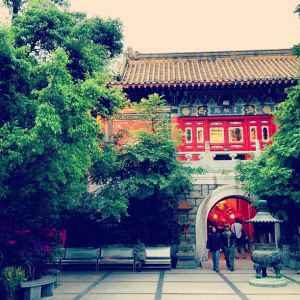 In front of Po Lin, I saw the biggest incense sticks burning.