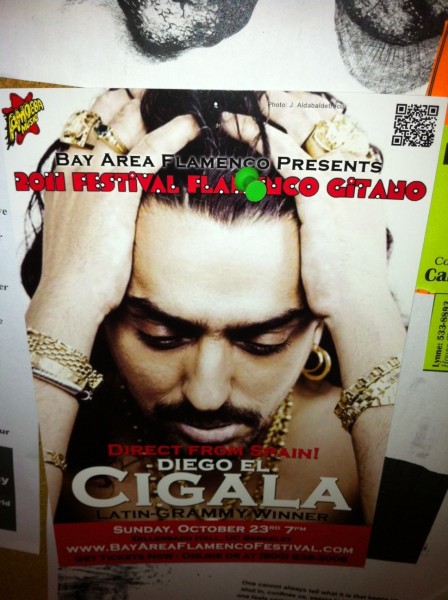 The Bay Area Flamenco Festival will have a very special flamenco singer this Sunday: Diego El Cigala.
I had a previous post a couple of months ago regarding his presentation in Toronto at the beginning of November and now I see a poster at Emeryville that promotes his show this weekend at the UC Berkeley.
Go and see him, people! If you never had the chance to listen to his songs check it out. His voice makes flamenco even more passionate , if that is possible.
My dear friend from Paris and his brother from T.O are coming this Sunday. We are going to be the best tourist guides on the entire West Coast so I cannot go to Berkeley for this one.
Maybe my destiny is to see Cigala in Spain. I could not attend to his concert in Havana and now I am missing this tour.
I have always had special luck in regards to musical events. I do not want to jinx it but I managed to see Pedro Luis Ferrer in a short visit to Havana, Sintesis and Kelvis in Madrid and The Cranberries at the Phoenix in Toronto (where someone sold us two tickets at the regular price a half an hour before the concert).
I will see you Cigala, on the old continent I am sure.