Another stupendous weekend in Hong Kong has ended. I have been carrying an umbrella in my purse but luckily the rain never came. The weather continues to be terrific in November so that gives us a change to stay outdoors. I have the feeling that if we keep waiting for the lousy weather to go to a museum we are not going to see one.
I wanted to visit Tin Hau temple and Victoria Park on Saturday so we took the MTR (metro) there and explored the residential area of Fortress Hill and Tin Hau. The temple visit was quick so we headed to the park with a couple of beers and snacks and sat at the Palm Garden for a late afternoon picnic. One of our hobbies lately has been to go to the supermarket to shop for unknown snacks like dried seafood: cuttlefish and crabs. Here is a picture of what we chose this time, it is my favourite snack so far. We also bought the cheapest beer at Wellcome supermarket. It is called Valor and it costs about $0.50 CAN.
Walking to Wan Chai through the area of Causeway Bay on a Saturday night can be a great entertainment. We passed by the fancy HK Times Square to find out that there was a tremendous LEGO installation set up outside on the second floor as the company is celebrating its 80th anniversary. The huge adds for stores like Emperor makes me think that people here are obsessed with jewellery. I also see a lot of jewellery stores in Kowloon, mostly the humongous and expensive shop Chow Tai Fook. How many customers do they actually get? I wonder…
One of the things I enjoy about HK is the fact that you can sit at a bench, hide among the quiet trees and listen to the birds for two hours at Victoria or Kowloon Park and five minutes later you go out to mingle in this large crowd of people trying to shop, dine or party. The city is surprisingly clean considering the amount of citizens going up and down incessantly. There is always someone pulling a cart (I have never seen so many carts in my life) transporting boxes, bags or simply picking garbage up.
On Sunday afternoon, the out and about adventure was devoted to the north of the city: the area of Nam Sang Wai. Our friend from HK joined us for a tasteful dim sum lunch at King's Cuisine on Austin Road to afterwards go to a small and flat trail along the Kam Tin stream. We had to go Yuen Long MTR station, once there, we crossed the river on a little boat, the crossing lasted three minutes as it was a short distance but there was no bridge to cross to the other side.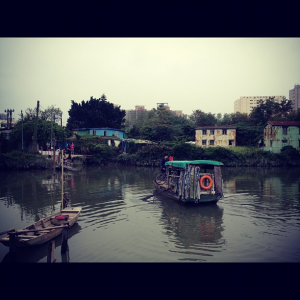 The nature and the light was perfect for photos so we encountered people taking wedding photos, graduation photos (it is popular to go around the city in groups taking graduation pictures, often students carry stuffed toys) and we also saw a small band recording a video. I noticed how almost everyone had professional cameras, not only the pro wedding photographers but the couples with children, the group of friends biking…
We were pretty much following the path, not sure of what to expect. Some people were entering an old and abandoned house so we followed them. At the end of the trail, there was a big opening covered in grass, where some people go to fly kites or remote – control planes. There was also a DJ with his full equipment playing reggae and something like an afternoon party that was about to start. On the grass was hanging out the hippiest crowd we have found until today in Hong Kong. The guys organizing the event are called Heavy Hong Kong. Maybe we should check out some of their city events soon.