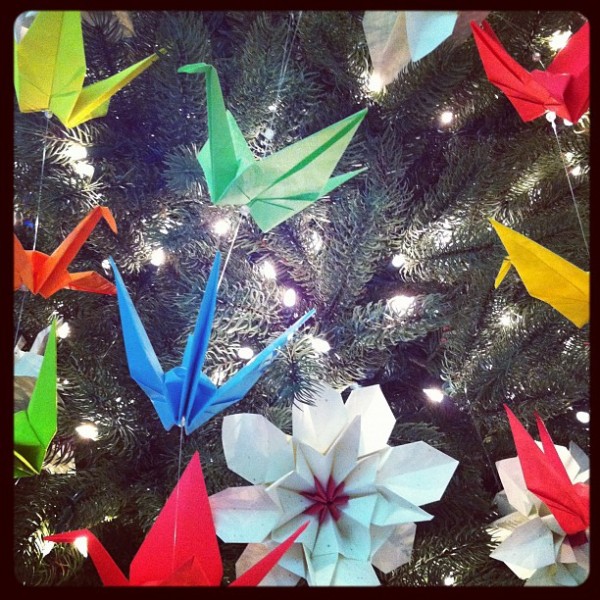 Today I wished I was in Tokyo. After three months in SF we visited Little Japan, or Japan Center to be more precise. Our plan was to walk around and see how Japanese this hood really is but we got lost among the libraries and little shops at the mall.
I was impressed with all the products you can buy at this place. For a minute there I desired to have a home to decorate with some buckwheat pillows, wooden dolls or kitchen bowls and teapots. Someday… 🙂
I entered a store where almost all the items are $1.50. The name is Daiso. It was sort of a dollar store but Japanese style. Many of the products were made in China but definitely designed for a Japanese market. I only bought a hair clip but it is a great place to check out if you want to buy small things for the house or if you have kids going to school and need cute lunch containers or pencils.
My favourite part of the visit where the sweets. We bought some goodies at Andersen Bakery and then passed by a mochi store, this time just to entertain our eyes since we were already full. I wanted to forget I was in USA and mentally travelled somewhere in Japan, where everything is so different from what we know that makes you feel like you are constantly dreaming.
Cupcakes stores seem to be pretty popular in SF. For some reason I have noticed a special attention to cupcakes since I have been here. The mall had an attractive looking cupcake shop called Cako which kept children excited. Cupcakes were $3.50 each. They looked really sofisticated. Next time I will be debating between trying the cupcakes or the MoYo's frozen yogurt.
The mall has a lot of restaurants to choose from and they were all really busy around 7:30 pm. I think by that time we had enough of the mall for the day and decided to walk towards the Mission.
I am still having a hard time getting used to the darkness at 5pm. I have to be thankful, though. It is the end of November, I am wearing a spring military jacket and I have not seen snow yet.