I have put together a new list to show all the favourites I have found in Belgrade City. Yum yum Njam Njam. 🙂
1-) Iced Coffee
This summer drink took over Belgrade and I am now addicted to it. The ingredients in this area are coffee (Nescafe or espresso), milk, ice cream, whipped cream and chocolate syrup.
2-) Zu Zu
Pekaras (Serbian bakeries) are everywhere and are one my favourite places in Beograd. Since I love flaky pastries I often order Zu Zu. Other recommendations are Pus (Snail shaped bread filled with young cheese) and gricko (bread stick).
3-) Buckica (Piglet leg, melted cheese and horseradish)
4-) Turkish delights at Hanan Sweets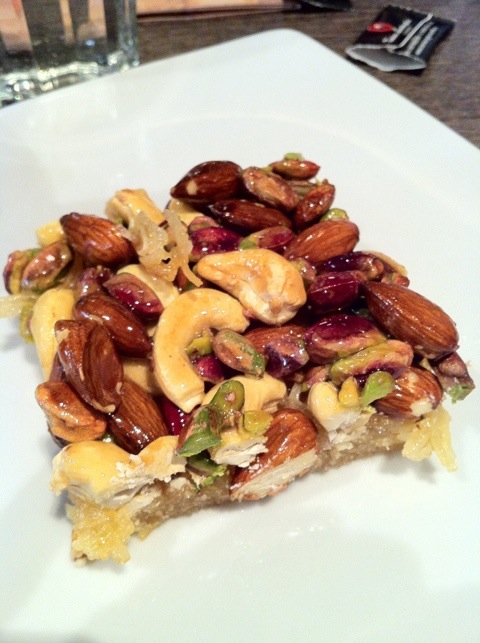 5-) Serbian side dishes: Kajmak, Ajvar and Kulen trio plus "the veggies" 🙂
Kajmak is a traditional cheese from Serbia which is young and creamy. It has a particular flavour so you cannot compare it with the regular cream cheese that we normally use as spread. You MUST try this if you travel to Serbia. I am sure if you already know a Serbian you know what I am talking about…
Ajvar is a spread made with red peppers, eggplant, vinegar and garlic.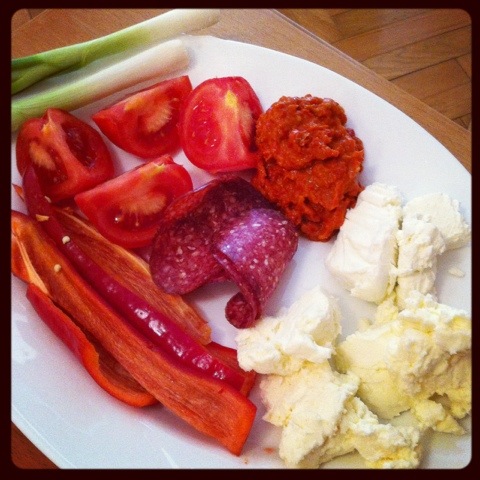 6-) Rakija: Serbian liqueur made of fruits.
The traditional rakija is made from plums. Other common options are cherry, quince, apricot and honey.
7-) Barbecue meat mix or "the reason why I have to go on a meat diet" 🙂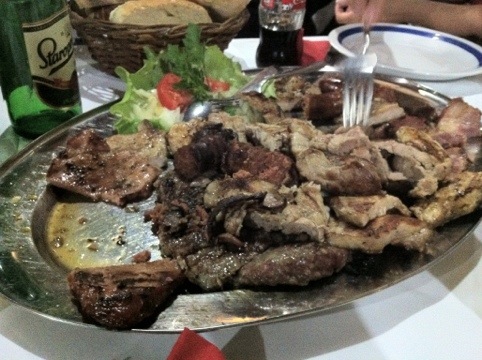 8 -) Muckalica
Muckalica is a popular stew prepared with mix meats and vegetables in a tomato sauce. If you eat it with the Serbian flat bread "lepinja" you will not need dessert.
9 -) Plazma cookies
From the Serbian company Bambi. Plazma cookies are sold everywhere and even plazma shakes can be found in menus regularly. You can also buy plazma cookies with chocolate or orange and chocolate. We found this delicious choco banana plazma cake at a Mexican Restaurant downtown called Zapata.
10-) Smoki
From the Serbian company Stark. It is a snack with peanut flavour. They are now available in king sizes 😉
11-) Krempita
12-) Slava traditional sweets
These sweets are mostly made with walnuts, peanuts, coconut and orange.