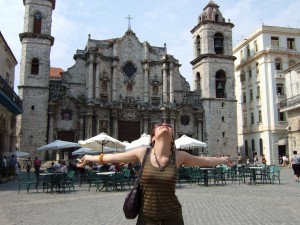 Some days I cannot take Havana out of my mind. If feels like I am losing something really precious to me and there is nothing I can do about it. Trying to fight that feeling back would be like trying to fight time and distance so I get somehow pessimistic. Today was one of those days, for no particular reason.
I wish Havana was just a name, a city, the place where I was born. Some Cubans living out of the island have their family and friends beside them so they do miss Cuba but in a different way. Miami Cubans for example have a little Cuba just 90 miles away from the real one. A million Cubans are residing in Florida so chances are that they have at least one friend or two from the old neighbourhood. Â They miss the streets, the smell, the news, their old habits but really, not the same. I get to miss it all! From the weather, the food, the music to the most valuable things in life: family and friends.
I am not trying to diminish other people's missing and I am not "drowning in a glass of water" but I wonder: does it get better with time? Do we really learn to STOP missing? Is there some kind of switch for this weight that you just learn how to find in you?
Havana to me seems to be just a bad case of love. Cannot have it, cannot get rid of it.