We finally found a place with free tapas with our drink! I slowly started losing my hope but this morning we had to go to the bus station, which is outside the old part of town, to buy our ticket to Granada and on our way back we found El Huevo Restaurant Bar, with a lot of locals sitting outdoors and a sign of "free tapas with your beer". All it took was to leave the touristic side of town.
I was told before that in the south you can choose from a list of free tapas. At El Huevo you can choose from a menu of 11 house tapas, consisiting mainly in montaditos but also potatoes or a fried egg. Pretty good. You can even order a mini burguer.
Although they announce the free tapa with your beer it actually comes with any drink of your preference. You can order a coke, tinto limon or juices. It all counts.
We also tried a flamenquin cordobes, maybe the Huevo was not the best restaurant to try it since the quality of the ham was not the best but hey, we were happy enough to spend 7 euros at a place that serves free tapas.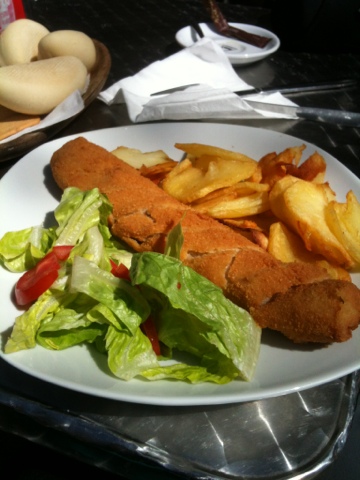 And speaking of Cordoba dishes, last night we had dinner at Casa Rubio, by the Almodovar Gate and ordered the salmorejo. It was so tasty I could eat it with a spoon. I think I am done writing about food in Cordoba. At least the free tapas mission was accidentaly completed. Green check mark!.