While my boots are wearing out I continue walking Madrid streets with no intention to stop. At some point my feet get tired and my stomach cannot handle anymore tapas and cañas so I am forced to go home and take a break from this city that does not seem to slow down.
Today we went to Círculo de Bellas Artes on Gran Via, there is an impressive view of the city from the roof top so we took some nice shots, even though the sunlight was really strong on a "winter" day that felt like summer.
Spanish like to call this month Febrerillo loco due to how crazy February weather can be. For the last few days I have seen people having dinner outside with some fancy furry seats and outdoors heaters that I swear are not even necessary. The temperatures are high and soon I will look ridiculous wearing boots. All the terraces and bars are constantly packed with people, who like me, cannot ignore the ham, the cheese and the intense social life that makes Madrid a known obsession.
After seeing a few places on Gran Via and eating torrijas at La Mallorquina bakery, we headed to La Latina hood where some friends were waiting at Los Amigos, on Calle de las Conchas, a bar/restaurant that I visited several times back in 2009 and this time as well. Meeting there for the first drink is becoming a habit. 🙂
Coming back to this place is no sign at all that Madrid has a lack of bars and restaurants. Afterwards, we went to two more places for food, one of them the Chocolateria San Gines, a very famous place for chocolate with churros or porras.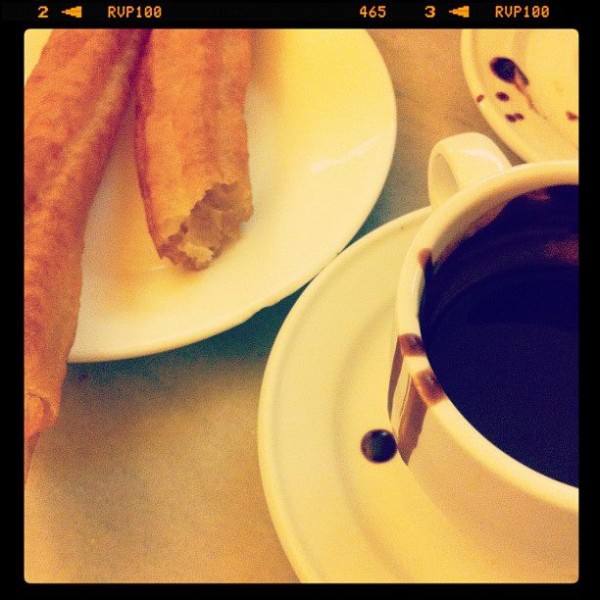 Every single place we passed by was full of chatty, happy people. Everyone was out socializing, from kids to grandpas, the culture of being outdoors is really strong in this country and as I have mentioned before, this is one of the main reasons I love Spain so much.
Close to the sunset, we went south to Puerta de Alcalá to take some pictures and to see the gate during the night. On our way back the walk was nice, I took forever to leave the area of El Barrio de Las Letras and Santa Ana Square. I enjoy that part of the city during the day and night, being one of my favourites.
I will be leaving Madrid in a couple of days. I will miss the people, the noise, the plazas, the food, the architecture, the light… just to number a few things…
I will return.