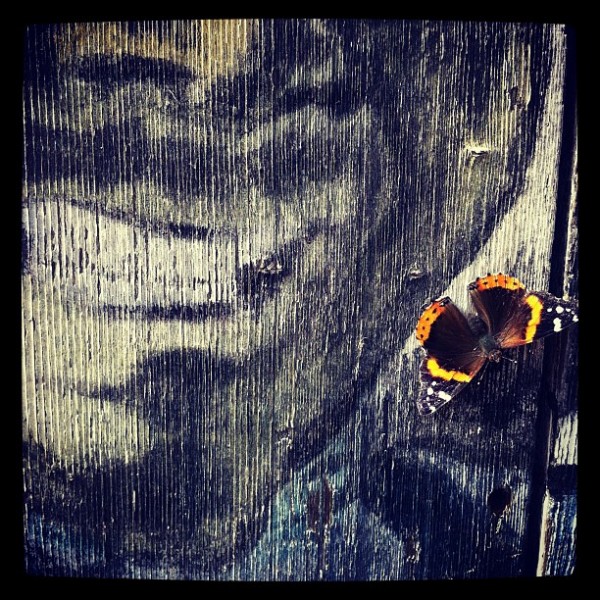 Hunting for a Sunday coffee on the Mission after an early yoga class at Hanuman Centre turned out to be better than we thought.
When I first walked down 24th street the number one thing that called my attention was the MacDonalds on Mission St. The outdoor decoration is not like any McD I have seen around the world. I am not sure if this is the heart of the Mission but hearing pedestrians speaking Spanish and surrounded by bright colours made me feel in the center of the hood.
Today, while searching for a good cappuccino and a pastry we discovered Balmy St. alley and spent over an hour enjoying and photographing garage doors.
If you think for a moment and stop to take a look at those murals they do not only add colour and beauty to the Mission's streets but there is also so much meaning and history trapped in those colourful walls.
We were lucky to have such a sunny morning! The colours were intense and even a butterfly accompanied us for a while. We had the opportunity to see some work in progress. One of the murals was being done by a local artist named Laura Campos. She explained to us her ongoing work which was in honour to a priest who lived next door and recently passed away. He helped the community back in the 80's opening his house for people who did not have a home.
The previous work of other artists showed some San Franciscan and South American important events. The transformer "Victorion: The defensor of the Mission" represented the fight against big condo buildings when the start ups began to develop in SF.
The portraits of several artists like Frida and Diego could be found; another door was painted with Sandinistas singing a Silvio Rodriguez's song; a mural was devoted to the remembrance of friends and family who died of Aids. I liked how the highest mural, on the side wall of a house read: REJOICE.
The more I visit the Mission the more I like it. If you live in SF you will probably agree with me that getting lost in the city with no plans for the day can take you to places… If you are a newbie like me, slowly removing your tourist outfit off or visiting for a few days, take some time to run to the Mission after hopping off the cable cars and you will have a true San Franciscan day.
We finally made it for coffee close to noon. Now we are sitting at Bello Coffee on Harrison St. It is a wonderful stop for a great coffee, while we are getting ready for Mexican food.