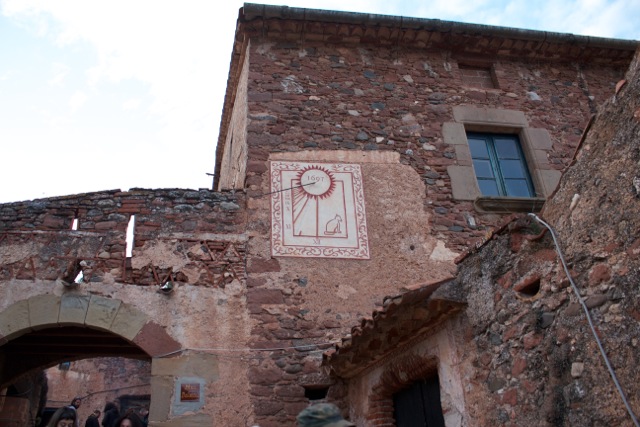 Today we went up to a traditional mountain house for a lunch with our friends and another 20 people. The experience was very unique because of the location, the house itself and what we ate.
We drove to a natural park called Sant Llorenç, in the area of Castellar de Valles, the road was narrow and the curves were very sharp. Then we entered an unpaved road that ended in old country house named Can Dalmau. Many other dirt roads were around and some of them were not even in the map. 🙂 When we got off the car I realized that this humongous house was not a common mountain house, one of the outside walls had a solar sun from the 17th century. The immense brick house was surrounded by a farm land and the stunning rocky mountains could be seen all around.
A lot of people in Catalunya gather to prepare calçots (a type of green) during the months of March and April. They take the green onions and sew them together to be thrown in the fire. Once cook they are peeled and you can eat them with a yummy sauce called salsa romesco. They combine the onions with butifarra, chorizo and some meat.
I was thrilled to be in a Catalan forest and in a house that was used as a market for the area many centuries ago. When we finished the lunch some of the guys played some music and later in the afternoon we went for a short walk. I need to post a few pictures to show the beauty of the place.