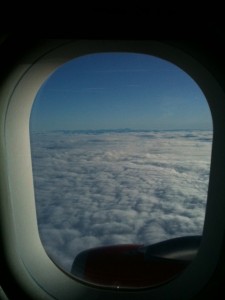 We took a 6 am Bart train this morning to get to the San Francisco airport. We are spending the next five days in Seattle!. Taking off from sunny SF flying over the clouds and then landing in cloudy and colder Seattle made me think of Toronto and my love hate relationship with Canada. The cold wind, the pine trees, the light and some of the buildings' architecture reminded me of my northern life.
Being in a warm weather feels just right  but I am over excited to be here, filtering a little bit the history of this town, always known to me as the rainy place in the States where cool grunge and indie rock bands are created. So far, we just took the Link Train to Westlake Station and we are sitting at a cafe/deli – called NYC, by the way – having lunch.
I am certain I will post some good first hand stories soon.