The more I see Hong Kong the more I love it. All the different districts have so much to offer! Today we went to Sai Kung with our HK friend. The streets were particularly busy because it was a holiday (Chung Yeung Festival). Everyone seemed to be out hiking, picnicking and of course, eating. There is no lack of food in this town, specially seafood.
We went to one of the famous restaurants along the piers: "Chuen Kee Seafood". I have never seen so much live seafood in my life. I could not stop looking at the containers and taking pictures. I was an insane tourist. To be honest, I have no idea what half of those products are or their names. I was totally lost.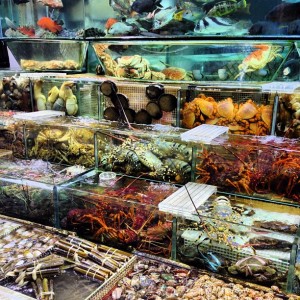 Maybe because I come from an island where there are no fish markets, fishing boats all over the place and seafood, which is commonly sold "under the table", is very expensive.
These are the pictures I took with my mobile. I find the big shrimps in bottles to be pretty disturbing. Like aliens in a lab, they were trapped and moving slowly. Yes, disturbing is the word.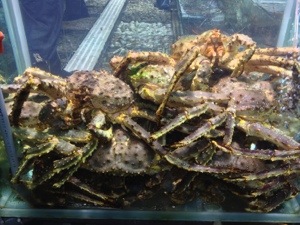 We ordered four dishes: lobster with a cheese sauce (similar to bechamel) and noodles, pomfret fish, fried squid and clams in black bean sauce. We later found out that they made a mistake with the lobster dish and gave us food for four. Sweet!
The lobster and the fish were my favourites dishes. I can go without the clams, really.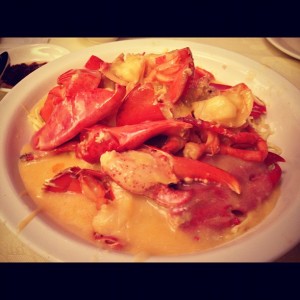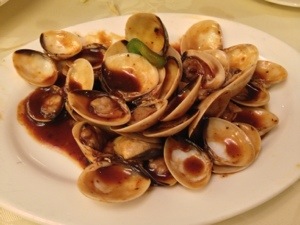 After dinner, our friend took us to Honeymoon Dessert for one of those soupy desserts that are so popular here. I am stock with my ice cream obsession so I am not too adventurous in that department. They ordered a walnut soup with peanut balls and another dish with durian fruit.
I think it is about time for another hike!