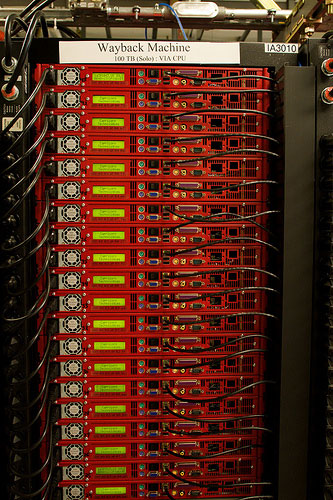 Fort Mason's Cowell Theater in San Francisco had a very interesting speaker last night: Brewster Kahle, the founder of the Internet Archive.
One of our friends is a big Stewart Brand fan and reminded us to go to one of the Seminaries for Long Term Thinking, created by the Long Now Foundation.
Kahle's presentation was beautiful, clever and immensely inspiring. He explained extensively all the work they have been doing since the beginning of the company in 1996, how the donations coming from different foundations, libraries, and individuals have made this dream possible in a capitalist society.
He constantly referred to the importance of keeping the knowledge free to everyone in the world, the need to maintain endangered languages alive and all kinds of information and materials available as a way of instructing and educating present and future generations.
After the talk, I went home and straight to my computer to check my Cubapop and popular sites like Yahoo on their way back machine. I could spend A LOT of hours doing so. 🙂
There is a lot of work to be done in the process of keeping every single book, video, audio or news ever written or recorded. This one is a very admirable and never – ending task. It seems to me that is the type of project that will never run out of followers and financial aid. It is indeed an example of long term thinking!