We came back from spending four days in Beijing with two friends.
We smoothly flew there and back with DragonAir. On Friday afternoon, I left HK with a small backpack and a list of things to do. Although Beijing is a big city with a lof of places to see I was happy enough to get to visit the Forbidden City and a to join a tour to the Great Wall.
Arrival
The first detail I noticed, even at the airport, is that the city was not as well lit up at night as Hong Kong is. The second detail is that passengers on the subway stared at me discretely but curiously so I guess they are not as used to foreigners as Hong Kongers are. The third and last detail is that Beijing is cleaner than I imagined but not as clean as HK. With these three impressions I got to the hotel and our adventure started.
Our hotel was very near to Tiananmen Square and the Imperial Palace (Forbidden City). As soon as we arrived to the Tiananmen East subway station we noticed that the area was heavily watched and protected. The China leadership transfer is about to happen so a whole army of soldiers is working to keep things going without any disturbance. This station is not the only one that shows security at the entrances. Many other stations have permanent machines to scan your bags and to analise your water bottle.
Food and Drinks
Luckily, we were going around with two friends who speak Mandarin. Although they were also tourists in BJ, they gave us excellent tips on what to eat and to see in the capital.
The variety of food is unbelievable. I took pictures of scorpions, silkworms and other tasty nasty dishes. Those few days we tried a quite good Hot Pot in a place called Wanfujing, we had a Peking duck specialty dinner at a fancy restaurant and a delicious meal at one of the hutong area places on our last night. I really enjoyed a caramelized hawthorn snack at Yuanmingyuan Park and an yummy street crepe outside the Temple of Heaven. I was not more adventurous than that.
One of the nights, we ordered a rice wine (baijiu) that was really good. I can't remember the name of the bottle but it came in a black clay container.
Tsing Tao beer or tea was our more common option at restaurants.
We also discovered Beijing yogurt. They sell them at the street shops and it is very creamy and sweet. Normally, you drink it on the spot and leave the container to be recycled.
Sightseeing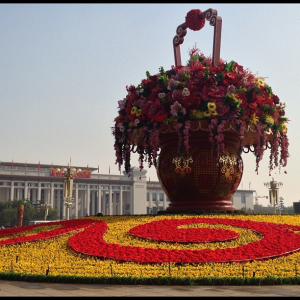 The visit to the Forbidden City was a magical one to me. I can travel to a different century just by walking along those corridors. I enjoyed every roof, carving, colour and door. It was raining and chilly but I did not mind it at all.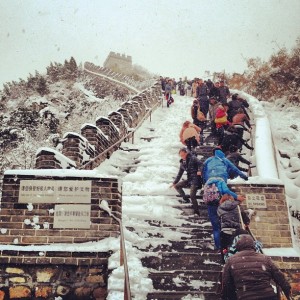 Our trip to the Wall was just wild. We scheduled the tour on the day of the first big snow of the year. On our way there, tree branches were blocking the sidewalks, some streets were flooded and the traffic was impossible. We had a lot of fun either way but once at the Wall  the ground was terribly slippery and the winds were strong. I was one of the insane tourists who had no winter boots and just bought gloves and hat on the bus. My feet were wet and my toes numb. Thanks to my boy that was pretty much holding me I made it all the way up and then down. 🙂
In general, I saw more Chinese tourists than international tourist. I believe it could be due to the winter season.
The bus tour we joined was 100 Yuan and in Chinese language. We figured that a few bucks could be saved if we could avoid the foreigners tour. Besides the visit to the Wall the tour included the Ming Tombs and the lunch, at least that was what we understood. Already on the bus, the price of the tour got increased by 60 Yuan as we were going to go to a museum. We all could smell scam but nothing changed our moods. In the end the only thing that was worth it was the Wall and the lunch because they just passed by the tombs and a reservoir without stopping and instead took us to a jade market and a craft and candy market to shop.
The famous museum stop turned out to be laughable. It was a wax museum with a few lines about Ming dynasty history. Do people still go to wax museums? We fell for it, but we had fun and the bus dropped us off at the Olympic stadium so we had the chance to see the nest.
On our third day we went to the Temple of Heaven. I guess that after seeing the Forbidden City it is hard to find such a high concentration of amazing buildings so close to each other but in reality each place has its charm and interesting story behind. The Temple of Heaven (Tiantan) was simply beautiful. Locals go there to write, dance, knit, sing or play cards. A different crowd  tries to sell you souvenirs but that is the case in every touristic spot. With more time in Beijing I would have sit there for a while to take pictures and to observe the retirees enjoying their time. I kind of did… but in a little bit of a rush. I even tried to follow their dance (I am a Cuban, after all).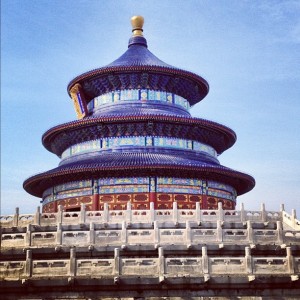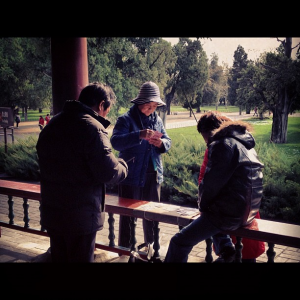 We had to decide among a whole list of places to see because our time was limited. We spent an afternoon in the hutongs area. I knew that with the modernization of the city the old narrow little streets with the traditional houses started to disappear. Luckily, before it was too late, the government realized that a part of the city history was being erased and now the ares are nicely renovated with stores, bars, restaurants and hostels. Apparently, the prices of hutongs currently reach the 10 million Yuan and more. I imagine that most of the stores are paying a rent that it is not so high otherwise I cannot see where this is going.
Our last big stop was Yuanmingyuan Park. I was curious to see this place which was not on my list but my friend told me a lot about it. One of the emperors built an European-style summer palace in the 18th Century, with stunning parks, fountains and buildings and during the second Opium War it was completely destroyed by the British-French army. I am now interested on reading more about the history of this park in ruins that has been an inspiration for Chinese movies.
Nightlife
We all know that karaoke is very popular in Asia. I love karaoke as well so one of the nights we all happily agreed to go to a karaoke place named Ibiza. A girl on the street had previously told one of my friends that that was the closest I thought that there was something "wrong" with the place when we got there. Ibiza is located in a brand-new building that looked completely dead. It seemed like a ghost building until we took the elevator up to the Ibiza floor. Suddenly, the doors were opened to this colourful and fanciful place like no karaoke bar I have been before. By looking at the kitschy decoration around me I began to think that sexy girls were awaiting us. Without understanding one single word of the Mandarin that was being spoken but seeing that our Chinese friends were fine with the place I followed one of the guys to our room. There was nothing weird with the place, we just had a great and loud night singing all kinds of songs, snacking and drinking.
Dongzhimen district is another active place at night. The restaurants are opened until late (most of the restaurants in BJ close around 9pm), young people meet there for drinks and the best part: the entire main street is lit up with red and bright lanterns.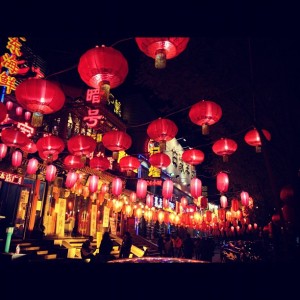 One annoying thing we repeatedly found was the taxi drivers trying to rip you off. The price of the taxi goes:  10 yuan for the first three km and 2 yuan for every extra km. Drivers tell you that they do not know where the place is  if the location is near by or want to charge you three times the official price to take you to your destination. If it is raining or late night they rule the streets of Beijing. Our friend got charged 100 Yuan to get to the train station on Monday morning. I am starting to think that being an ass is an essential requirement to become a taxi driver.
Departure
We took the express train to go back to the airport and left Beijing without buying that I LOVE BJ t-shirt. Damn! Our friends in Toronto would have loved that one. There was so much left to do in this insane and attractive city that I am sure we will come back in the future if there is another chance.