Last weekend we crossed three borders in two days. I am not sure how cool that might sound to people out there but for a Cuban stock on an island the first 24 years of her life is quite grand. Although I do not travel with my Cuban passport no one can take the Cuban excitement out of me.
If you are an active tourist and you do not have many days to visit the area around HK this two-day trip is fascinating and diverse. Internet connection can be extremely useful to have access to maps and subway, specially if you don't speak Cantonese.
When we applied for a visa to go to Beijing at the beginning of November, we requested a two – entry visa to China so we could later visit Shenzhen, which is accesible by Hong Kong metro. Instead of going to Shenzhen and back we planned the weekend this way:
Saturday morning: HK to Macao by ferry. The idea was to spend the day in Macao, to visit a few places around the colonial part of town and to leave after dinner.
Saturday night: Take a bus or taxi from the centre of Macao to the China border and cross to Zhuhai before midnight. Once in Zhuhai, we would find a hotel to stay the night and then next day we could see a little bit of the city after breakfast.
Sunday afternoon: Take a ferry from Zhuhai to Shenzhen around 1pm to spend the rest of the afternoon and night in Shenzhen.
Sunday night: Return from Shenzhen to HK by metro.
I went online to choose a few places of interest for each city but we followed the list only in Macao. The rest of the time we played it by the ear as it was raining in Zhuhai and in Shenzhen we ended up following our friends's advice of visiting the Old City.
Macao
Out of the three cities I liked Macao the most but I found Shenzhen's experience to be very unique for us. Macao is popular for its casinos but I think that the city has a lot more to offer. The colourful architecture reminded of provincial Cuba. The name of the streets and signs are in Portuguese but I actually did not hear anyone speaking it on the streets. Suddenly, the signs and buildings looked familiar to me but on an Asian town. As weird as this could appear I was feeling closer to home and I have never been to Portugal. The bakeries have both Chinese and Portuguese goodies. I was supposed to try the Portuguese Egg Tart but with all the options at the bakery I chose this:
It is called Cuttlefish Burguer but it tasted more like a croissant.
The central area of Macao was so packed that it was difficult to advance without stopping constantly. Tourists and local were merged into this crazy and loud crowd going nowhere in particular. Everyone was out snacking (a pork steak on a bun seemed to be pretty popular), chatting or shopping. The city was not in a rush and neither we were. I was trying to look up to take some pictures of the residential buildings and even the constructions looked crowded. The balconies are closed with fences, were neighbours hang plants pots, clothes, cleaning tools… it is like an extension of the apartment out to the street.
The town is so small that in a few minutes you can get to Senado Square, Macao Cathedral, Saint Paul's ruins and Monte Fortress (Fortaleza do Monte). We passed by an area with a small park that had a lot of cool graffiti on the building walls. I think we were missing our Paris graffiti hunting. It is not easy to find graffiti in the streets of HK, you would figure that with so much concrete there would be plenty of street art but it is not the case.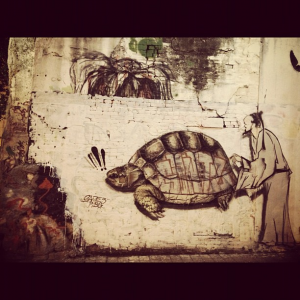 Our friend from HK travelled to Macao to spend a portion of the weekend trip with us. He had to work on the weekend so he couldn't be a part of the full weekend trip. We went to a hot pot place in Macao for dinner. Locals are always impressed when you great them in Cantonese or at least try to order one beer in their mother tongue. We continuously notice that we are the only foreigners eating and visiting the places were locals frequent, ex: congee places.
Like everywhere else in China so far Macanese are helpful and friendly. Some places of the city look dirty and poor, a great contrast with the flashy casino area and the well-kept touristic buildings and churches. I guess I truly found one common thing to my home city here.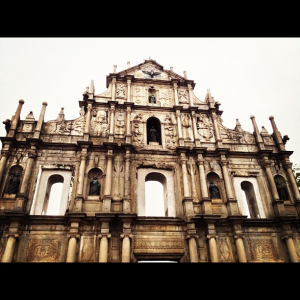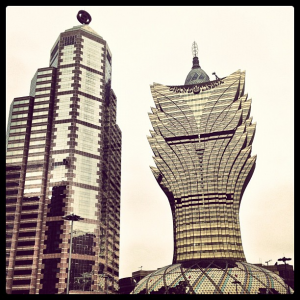 Before we left Macao we entered the new Grand Lisboa casino and quickly lost 200HK ($26 CAN) on a table game. End of the story for us. The casino was busy and clients seemed to be beating their souls. Some of the gamblers we saw did not look like they had the money to be wasting it there. The picture was not the most inviting so we left to catch our bus to the China border.
Zhuhai:
Crossing to Zhuhai was no bother. The bus dropped us off at the Immigration building (very large, by the way) and you just have to queue to exit Macao and then to entered China. No one asked us any questions and the service was efficient.
Once in Zhuhai the whole Beijing taxi agony came back to us. The taxis do not line up to take the customers and charge them the official fare. A cloud of empty taxis and regular drivers in their personal cars are trying to "make business" with you. When we saw the line of people waiting for an official cab and the rain starting to fall we just decided to find the closest hotel room available and to spend the night out of the downtown area. Fortunately, our friend was still with us and he managed to get a terrific price for a triple room in the Yong Tong Hotel.
The next morning, the most amazing dim sum breakfast for three costed 90 yuan. We stuffed ourselves at 9 am and said goodbye to our friend who had to return to HK early in the day.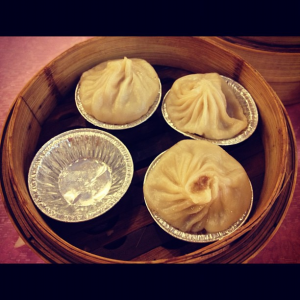 Zhuhai weather was not very favourable for us but we managed to walk around the town a little bit. People seemed to be spending the Sunday at home, probably hiding from the constant rain. We went to see the Fishing Girl and later headed to the closest museum on the map. The museum is free but it was probably the worst museum we ever visited. There were no historical artefacts only endless rooms with pictures of the economical development of the city. I found it quite boring but the architecture of the place was acceptable and they had a lovely children's art workshop in the back displaying little. In my opinion, the whole place should be converted into a cultural centre for kids.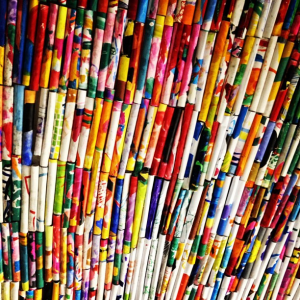 We spent another hour seeing the city's architecture and slowly making our way back to the ferry station.
Shenzhen:
People on the ferry to Shenzhen were either sleeping or eating. I was just sitting there looking at my phone and hoping there was no rain in Shenzhen.
We arrived safely and searched the nearest metro station to go to the Old Town. Shenzhen subway system is very new and modern. They have these cute round plastic tokens that you scan on our way in instead of using a ticket or a card. The subway cars are clean and roomy.
Everyone noticed us so right away I figured they do not get to see many foreigners in the city. I was happy to see the citizens being friendly and chatty with us, sometimes they would talk to me as if I could speak their language. It reminded me of Cubans sometimes talking louder to tourists thinking that the volume would change their understanding.
The Old Town was an utterly experience. The area that covers the city is not large and two streets away from the main and renovated paths are showing a poor but true face of the town.We got to see a real Chinese wet market with all the meat blood splashing, live animals caged and unknown- vegetable-squeezing- out -of -a- bucket type thing. Tons of products for home were sold to locals, hair style places were receiving customers,and all these was happening on a narrow street not closed to motorcycle or bike traffic. The honking was definitely insane, all the mothers with babies and toddlers were out enjoying the Sunday afternoon. The kids were lining up to buy snacks, fresh buns were attracting our attention and the baked goodies had a pretty good price. The market was completely overwhelming and awesome.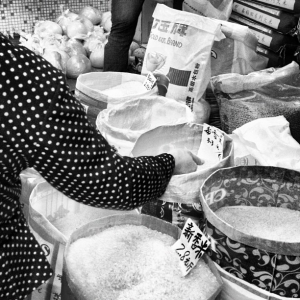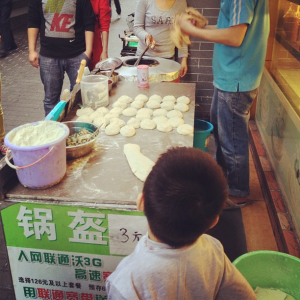 The city of Shenzhen is tremendous. Gigantic residential towers dominate the city, the traffic is heavy, the sidewalks are wide but full of pedestrians running around. It felt like an organized chaos. Parks were full of flowers, balloons and happy families and stores at the ground level were busy and loud.
I regret not buying the fresh sugar cane juice that was being sold at some corners.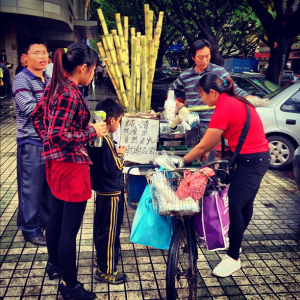 At night, we had dinner at a restaurant which looked pretty animated from the street. There, we ordered the yummiest fried rice, fish and a vegetable dish. We crossed the border back to HK around 10 pm.