We took the metro (MTR) from Jordan station in Kowloon to Central station on Hong Kong island. The subway connection is great between the islands, the metro is clean and they have the fastest escalators I have ever seen. If you are considered tall in Europe you will quickly realized how many places are designed for shorter people, for example, the subway cars.
There is a card called Octopus that serves like a debit card and can be used for many establishments, including the subway. It can be refilled at shops like 7-Eleven and can make your life really easy if you are staying in HK for a while.
First thing we did when we got off the subway was to walk by the water. At the Central Pier I was surprised to see how clean the sea water was. I was expecting a more polluted ocean but in turn I even saw some locals fishing. The Lama Ferry entrance was packed with flowers and messages in memory of the people who tragically died on Oct.1 rst 's boat collision.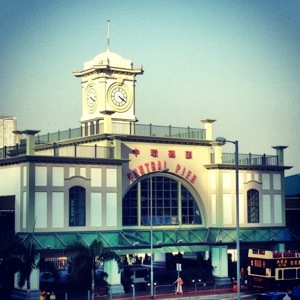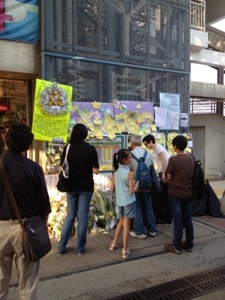 The area is really developed, the skyscrapers fancy and the stores at the IFC mall way too expensive for my pocket. They have the same shops you find in NorthAm and Europe so we left quickly after visiting the Apple store.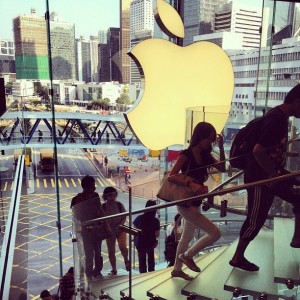 The city is full of people and I love it. I photographed the tall and skinny streetcars running the streets of HK. There is no way someone can believe how much I had to avoid air conditioning drops of water falling in my eyes, head, face and arms unless you have visited this city to understand me. All I can say is: -"Avoid the little puddles"!-. For the first time in a long time I am in a city where I cannot blend in and pretend to be a local. Everyone speaks to me in English or points out at things when I am at the bakery. I am sure that here no one will ever ask me for directions. 🙂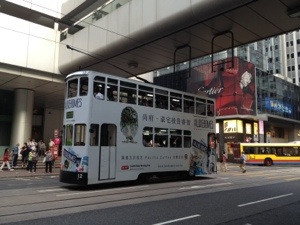 We walked up Graham street wet market and went up the hill to what people call Mid Level. Suddenly we started seeing a lot of foreigners! Guys sitting at the bar were either British or Australian and there was an Argentinian and Spanish restaurant not too far from each other. We found out later that a lot of expats (immigrants coming from the First World?) live around this part of the city.
Soon after that, we made our way to Wan Chai district. We downloaded an application for restaurants in HK called OpenRice that recommended us to go to a famous place for BBQ pork and rice (Joy Hing Roasted Meat). The small restaurant was packed and the food was pretty tasty. If you are looking for an affordable place this is the one. We paid 48 HK dollars for two BBQ pork dishes, which is around 6 CAN dollars.
The dinner energy took us all the way to Tin Hau neighbourhood. On our way, we briefly saw the really busy shopping area of Causeway Bay.
Everywhere you go, the city arquitecture is a mix of elegant and new buildings, probably for offices and older and uglier constructions that seem to be people's apartments. I have not noticed houses or low buildings. Some buildings are like small worlds: with restaurants, bars and shops all in one place. Even the churches are sometimes a part of buildings. It looks like a lot of the piping system is set up on the outside of the buildings so that and the amount of AC units are definitely a very important and outstanding element.
Around 11 pm, we met with a friend in Lan Kwai Fong, a party area with lots of bars and people getting wasted at the 7-Eleven. We sat at a bar for a couple of hours but I was not impressed with the crowd, the vibe or the music choice. It was a fun day and night, though. There is so much to see in this town.
The taxi going home at 2 am was incredibly cheap.